UNIQUELY STUDIO DOJO
Intersection of 4 disciplines
Studio Dojo works at the intersection of four disciplines: Design Thinking, Futures Thinking, Organisational Development and Leadership Development.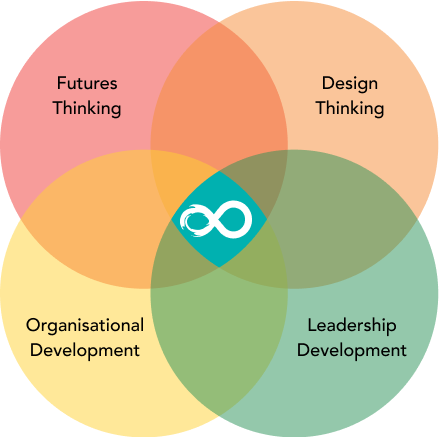 Futures Thinking
Provides the mindsets and skillsets to consider further into the future, and to readily simulate and explore multiple possible futures that may happen as a way to stretch creativity and question current assumptions.
READ MORE
Design Thinking
Provides mindsets and skillsets to empathise with people, reframe issues and turn intangible ideas into a concrete prototype to facilitate the creative process of answering a current issue.
READ MORE
Organisational Development
Taking into consideration the whole eco-system and how each group interacts with each other, OD is a critical mindset and skillset to have in order to scale any creative endeavour effectively.
READ MORE
Leadership Development
The smallest unit of change is the individual, and this is where Leadership Development brings perspectives around how to adapt, be creative and influential in the environment we find ourselves in.
READ MORE