Studio Dojo helps leaders, organisations and communities build the capacity to be more
creative, courageous and purposeful,

so that together we
can do more good for the
worlds we live in.
SUPPORT FOR DIFFERENT SYSTEMIC LEVELS
Who We Serve
Individuals
Growth of any human system begins with its smallest units – the individual. We believe in taking an integral approach when working with individuals, to meet them exactly as they are at a particular moment in time, and to help them grow to fuller versions of themselves.
Teams & Organisations
We partner with leaders to gain clarity and work towards the aspirations they have for their organisations. Whether this is cultivating an attitude of innovation or forging more creative collaboration within the organisation, we work alongside leaders to define their purpose, envision a new future, and then co-create the strategy, culture and leadership capacity to realise that future.
Communities
We believe that the vibrancy of communities that individuals and organisations belong to has the potential to nourish them. This is why we also contribute and nurture the communities we belong to through public events, programmes, partnerships and other initiatives.
SERVICES WE CAN OFFER YOU
What We Do
A TRANS-DISCIPLINARY APPROACH
How We Work
Studio Dojo works at the intersection of four disciplines: Design Thinking, Futures Thinking, Organisational Development and Leadership Development.
READ MORE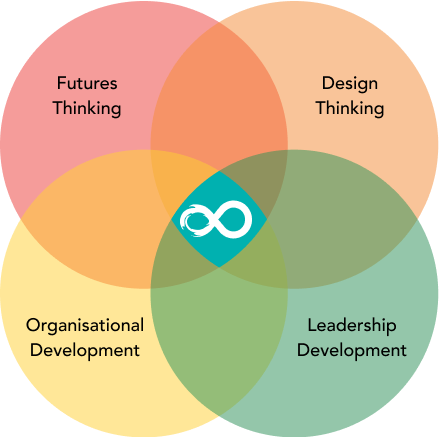 OUR MISSION
Why We Do
What We Do
"We cannot solve our problems with the same level of thinking that created them."
We believe that many problems we face in the world today can no longer be addressed with the mindsets and tools that have worked in the past. To be able to fully understand, manage and resolve today's increasingly complex challenges, we need to transcend ourselves, our teams and our organisations to develop more mature mindsets and ways of being.
The complexity of challenges we face today is what drives Studio Dojo to work at the intersection of four disciplines. We believe that no single discipline is capable of fully addressing the complexities of issues we face, but a trans-disciplinary approach could.
QUALITIES WE ASPIRE
TO EMBODY
Our Values
We align ourselves with these principles and use them to inform the way we work, both internally and with our partners and clients.
over skimming
the surface
over working where we expect them
to be
Invest in illuminating awareness
over investing in
being right
Continually develop and integrate
over staying static
and sentimental
over playing
zero-sum games
over defining ourselves and others