Studio Dojo specialises in training programmes for individuals and teams working in UX, Interaction Design, Product Design, Design Thinking, Service Design, and other similar fields. We offer both customised training programmes for teams, or publicly available programmes for anyone to sign up.
BUILDING SKILLSETS
Customised Training Programmes
Whether you are an in-house design team or an agency, Studio Dojo can work with you to craft a training programme that will build skills and competencies for your team to be successful.
It typically takes one to two weeks to get to know your team's needs and to develop a programme. Depending on needs, such training can vary from a full-day programme to regular one-hour weekly sessions.
Customised programmes work best for teams consisting of 5 to 30 people.
Some popular topics that design teams greatly benefit from include:
What are the different types of power and how do you skillfully manage the natural power dynamics that arise within a team?
Interviewing and observation skills for researchers
How to be a more effective researcher and designer by listening and observing to unsaid things.
How can shifting from "either-or" thinking to "both-and" thinking supplement traditional problem solving mindsets?
Effective creative communications in teams
What are the six speech acts and how can understanding them help us have more effective conversations in creative teams?
EFFECTIVE CAPABILITY BUILDING
Our Approach to Training
Studio Dojo works at the intersection of four disciplines: Design Thinking, Futures Thinking, Organisational Development and Leadership Development.
We believe that design thinking is an effective problem solving technique, but stopping there does not equip individuals and teams with sufficient competencies to be able to solve the issues we face in the world today.
This is why we think it is important to supplement design thinking with the skills, techniques and mindsets from three other fields; futures thinking, organisational development and leadership development.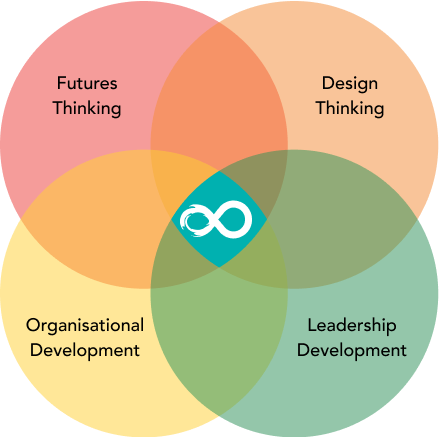 We believe that design thinking equips us with tools to address our present and immediate future, while futures thinking equips us with tools to address the long term future.
Leadership development and organisational development on the other hand, are more focused on the health of our systems, from intrapersonal to interpersonal, group and systemic levels to be able to move toward our visions.
Studio Dojo aims to be the training ground where designers and teams can build competencies in a variety of tools, as well as develop the health of their teams and individual lives, so that they can do more good for the worlds we live in.
WANT TO EXPLORE MORE?
How to Engage Training Services
Public Training Programmes
Customised Training Programmes
Fill in the form below to arrange a no-strings-attached conversation with Khai Seng to see if there is a good fit between Studio Dojo and your needs.