Event Category:
Design Facilitation 1 (Mar 2023)
Foundations, Principles, Processes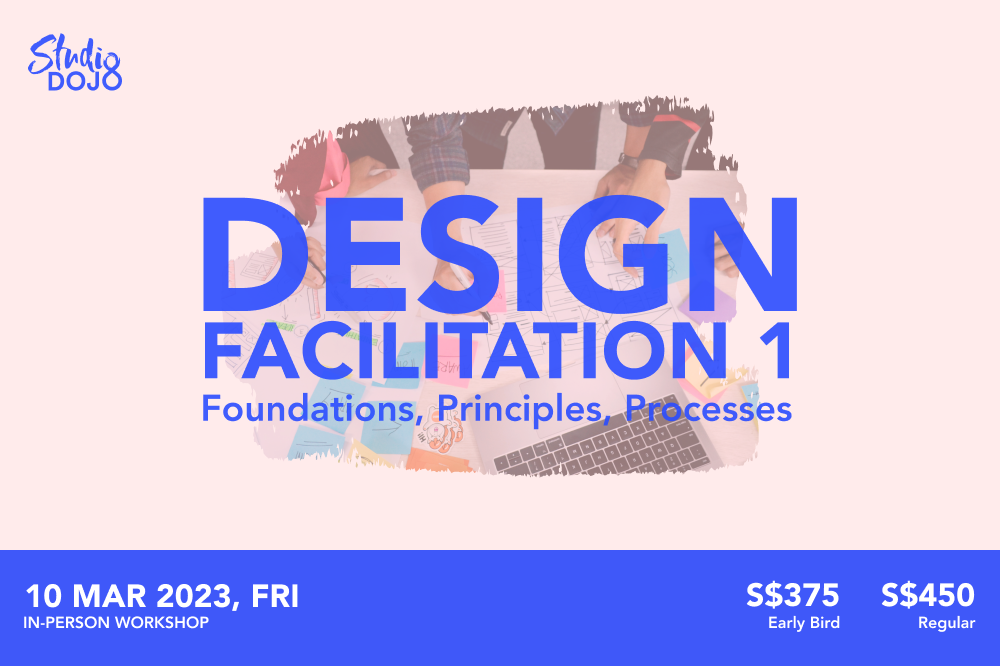 About this Workshop
How do you bring focus to a conversation? Encourage active participation? Get buy-in and ownership?
These might be familiar challenges to you, as organisations today are increasingly looking to designers for more than just skills in their craft. With the growing complexity in the world, designers are also called to be facilitators–to help bring people from diverse backgrounds together in strategic conversations, creative explorations, and to solve problems.
For such situations, this hands-on workshop provides you the fundamentals and principles of being a good design facilitator.
You will learn how to stay neutral while bringing others through a problem-solving process; principles of facilitating divergent, convergent and emergent processes; gain different tools for different stages of a design process; and receive a number of resources to support you along your journey.
What You'll Learn
Creating buy-in and ownership
Facilitating divergent, convergent and emergent processes
Creating active participation and engagement
Key attitudes of a design thinking facilitator
Preparing design facilitation sessions
Different stages of the facilitation process
Different process tools for different stages of the facilitation process
This is for you if…
You feel you have been facilitating by instinct or learnt it on the job and want some frameworks or principles to support and ground your thinking.
You want to be able to facilitate sessions smoothly with effective outcomes that participants enjoy attending.
You have never taken any formal courses on facilitation and find yourself taking up or being assigned such a role in meetings and discussions.
You want to utilise design tools and frameworks to help your team or organisation to explore and solve problems.
About the Trainers
Lye Yen Kai
MANAGING DIRECTOR, PIVOTAL LEARNING
Yen Kai has more than 15 years of training and facilitating experience. He is a Certified Professional Facilitator with IAF, USA as well as a Certified Action Coach with WIAL, USA.
Over the years, he has applied his facilitation skills in a variety of settings, including Strategic Planning Workshops, Focus Group Discussions and Organisation Development work.
He has been collaborating with Khai Seng to integrate a specific field of facilitation known as Process Facilitation into the area of Design Thinking.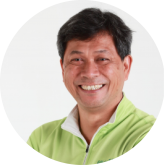 Hong Khai Seng
FOUNDER & DIRECTOR, STUDIO DOJO
Khai Seng first started out in the design field in 2004. Throughout his career, he has not only helped to design large-scale digital systems, but also facilitated numerous training programmes for C-suite executives and working professionals to drive cultural change within organisations around design and innovation.
Prior to starting Studio Dojo, Khai Seng was formerly the Head of Singapore for Foolproof, a UK-based experience design agency. Education is also close to his heart, having developed curriculum and taught anthropological studies, interaction design, experience design and design thinking in Republic Polytechnic and Singapore Institute of Technology.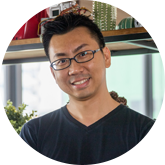 Unable to make it for this date?
Contact us to reserve a slot for another date.
Our DF1 workshops in 2023: 2 May, 25 July, 13 October
Frequently Asked Questions
Is this workshop an introduction to design thinking?
No, this workshop is focused on the practice of facilitation and is best experienced by people who already have some basic understanding of design thinking processes.
Can non-designers join?
Yes, anyone can join regardless of professional backgrounds. To get the most out of this workshop, we strongly encourage that you have some basic understanding of design thinking processes.
What's the size of the workshop?
We are planning for 25-40 participants.
Are there group discounts?
If you are purchasing tickets to Design Facilitation 1 as a group, we will extend the early bird rates to the group.
I'm from a government agency, can you please submit an e-invoice instead?
Yes, we can! Please contact billing@studiodojo.com with the necessary information.
Will this workshop be conducted in-person or online?
The workshop will be conducted in-person with Safe Management Measures (SMMs) in place. Should we need to shift online, we will update all registered participants prior to the workshop day. Rest assured that we have run this workshop with great reviews whether in-person or online.
Hear what our past participants have to say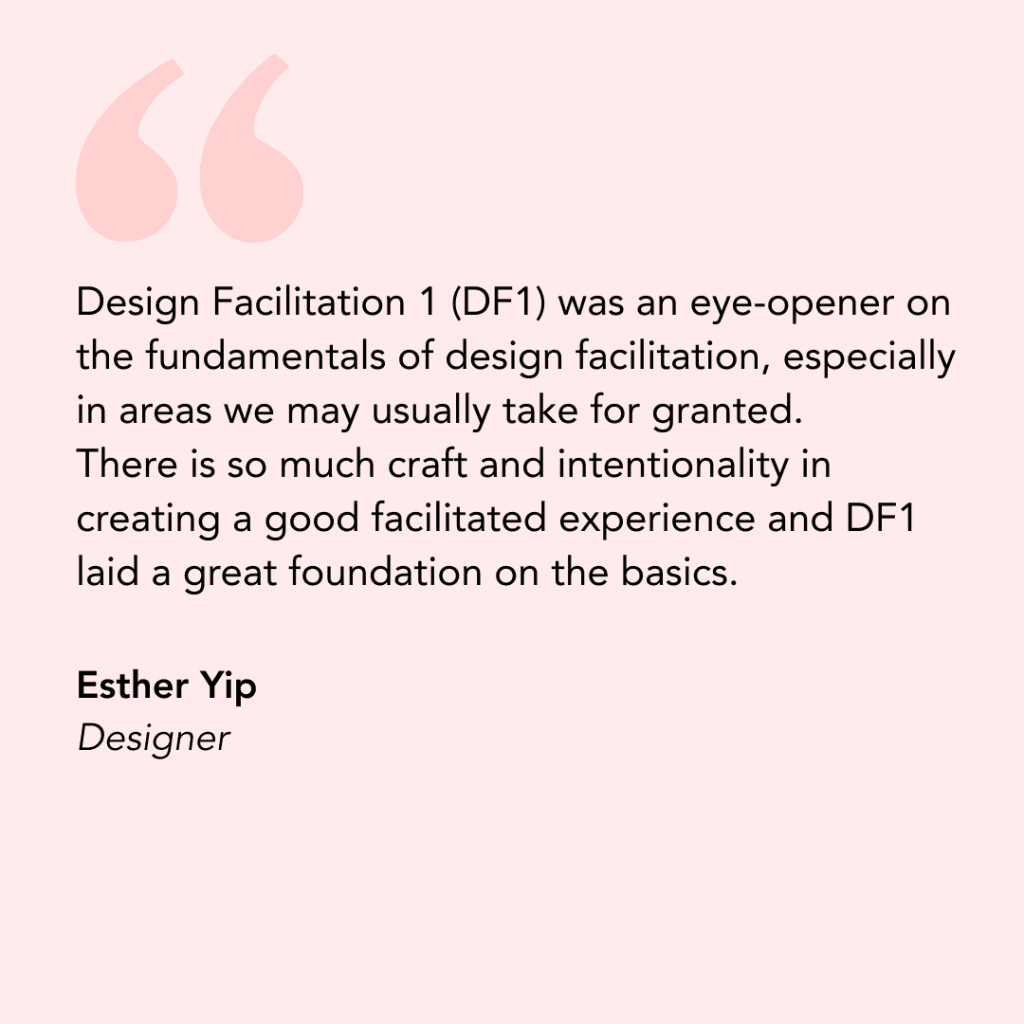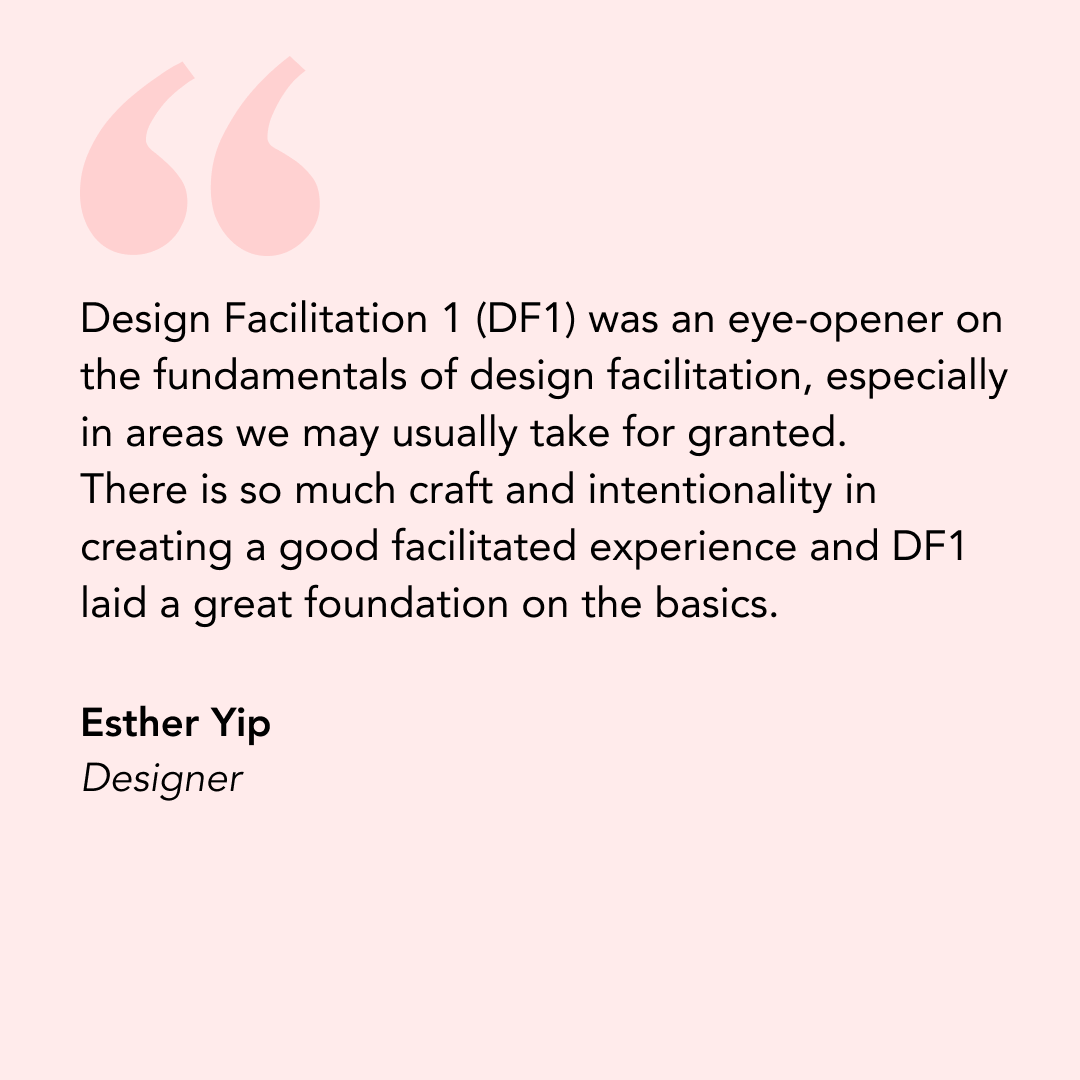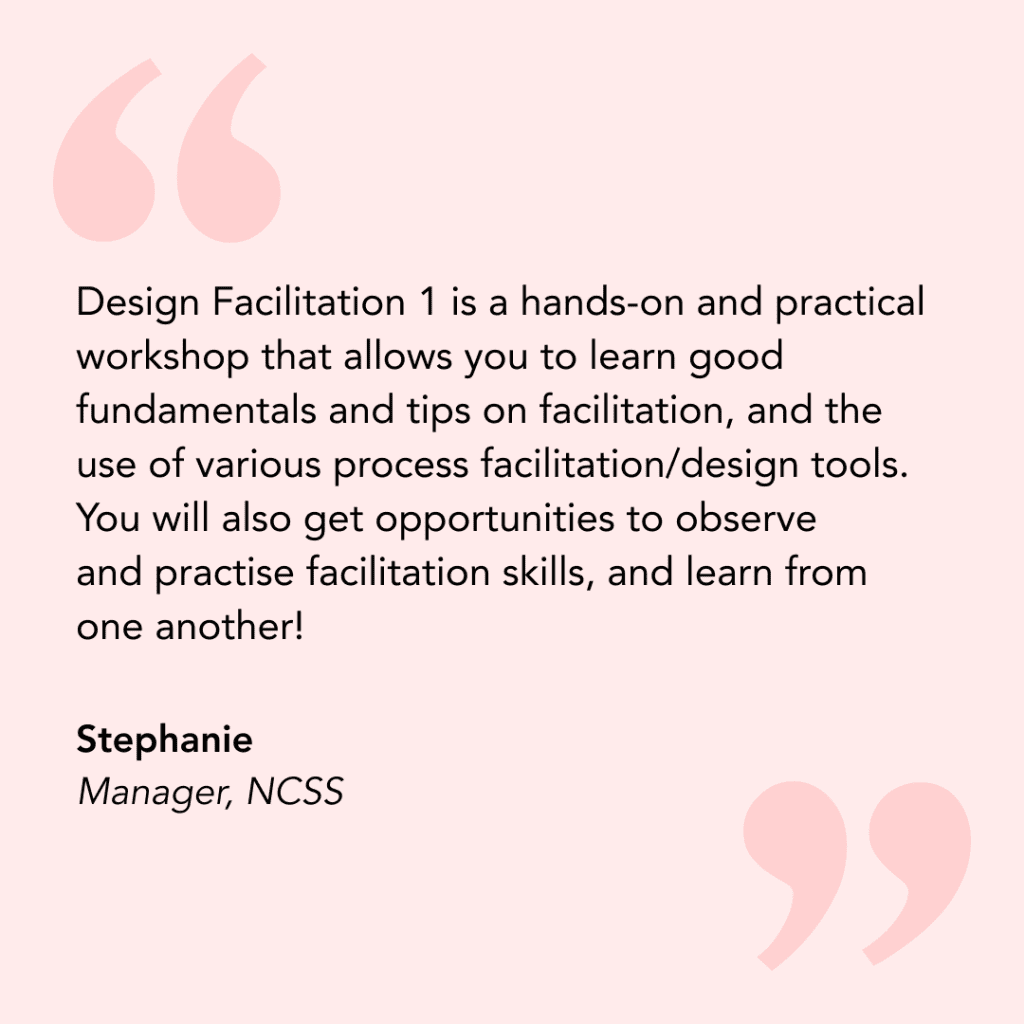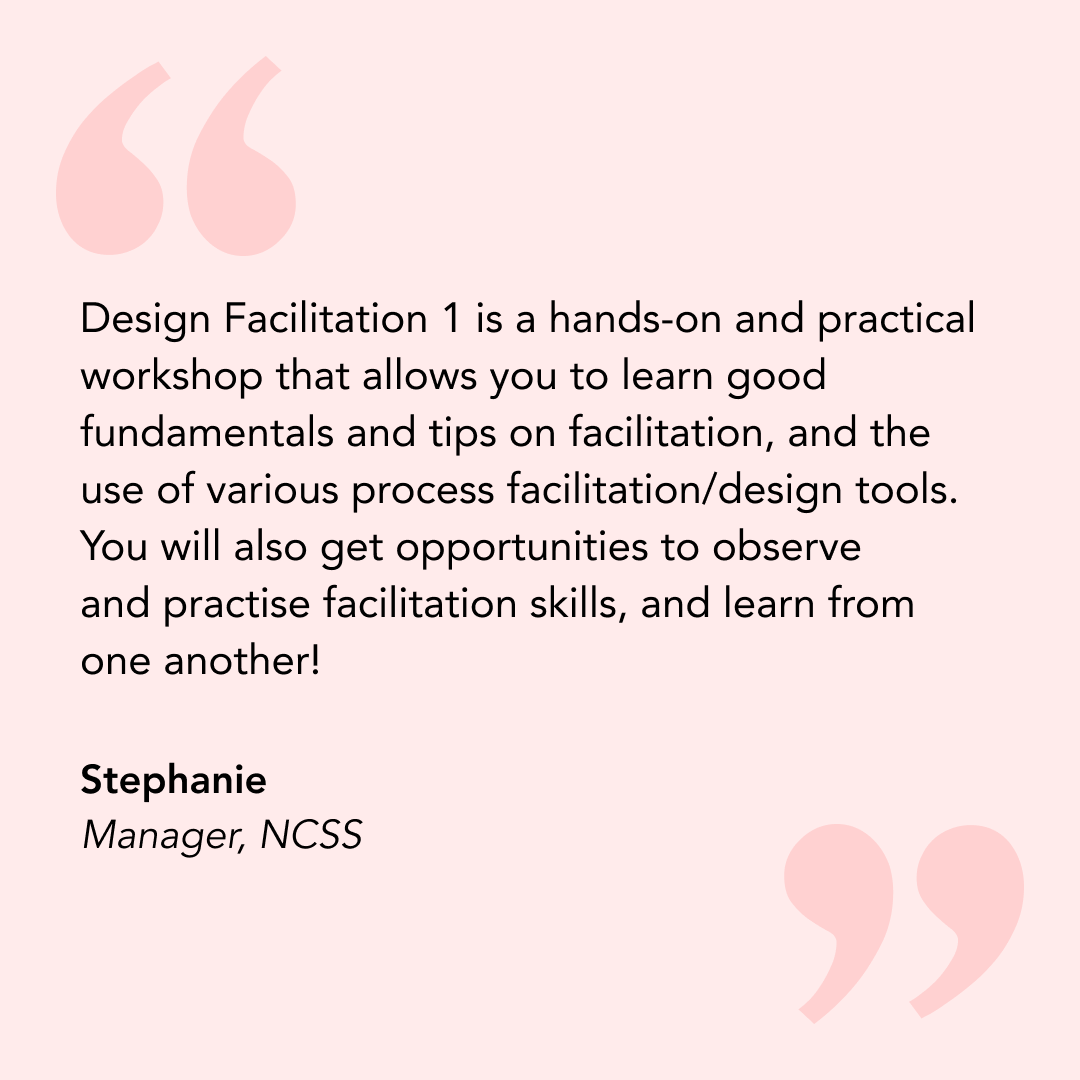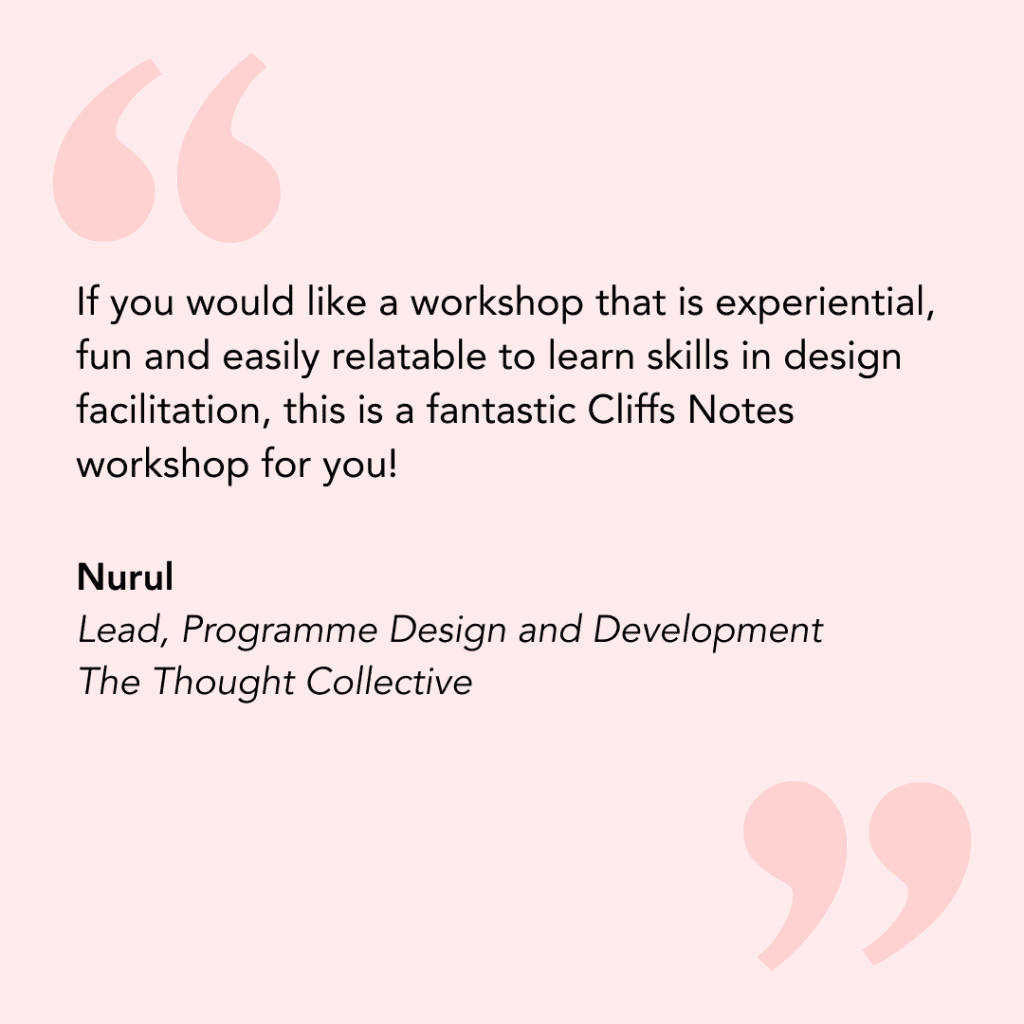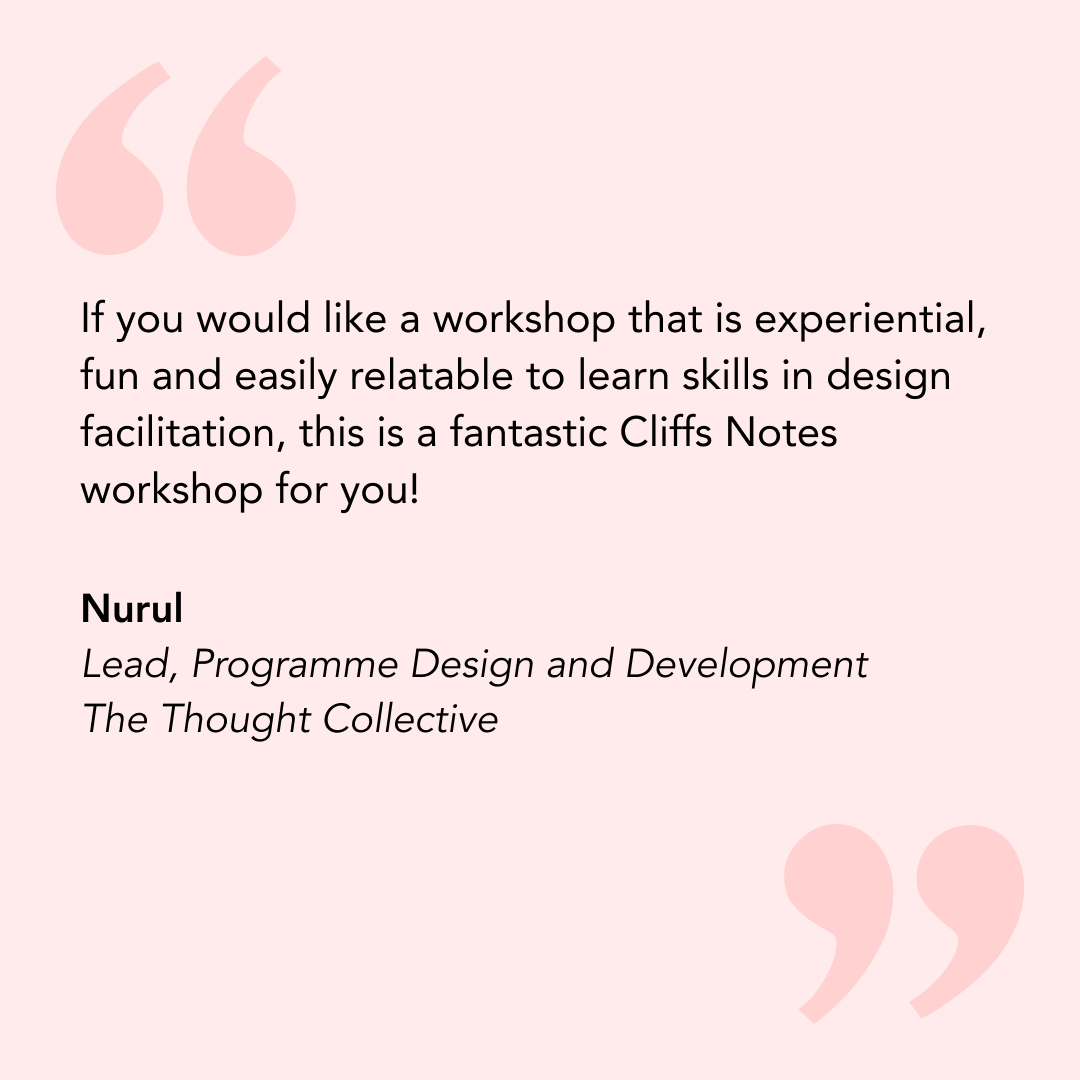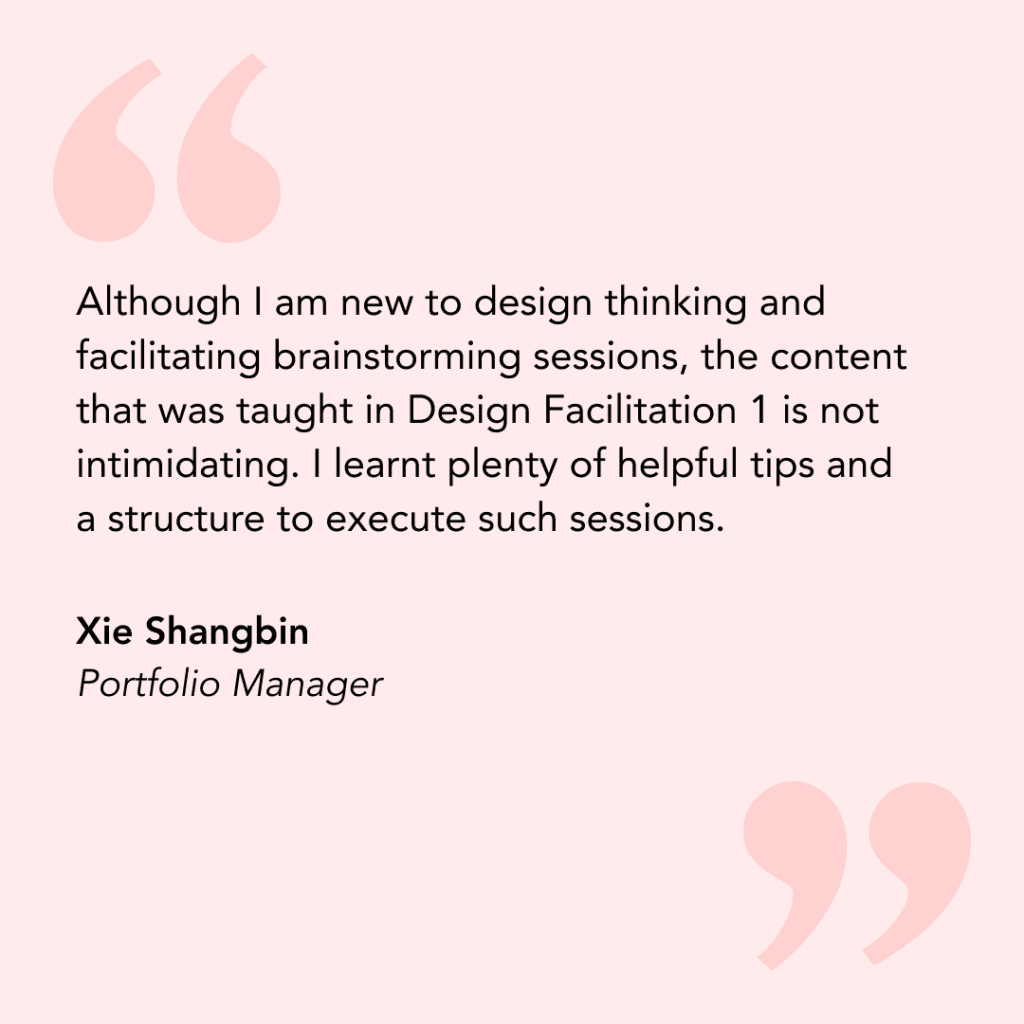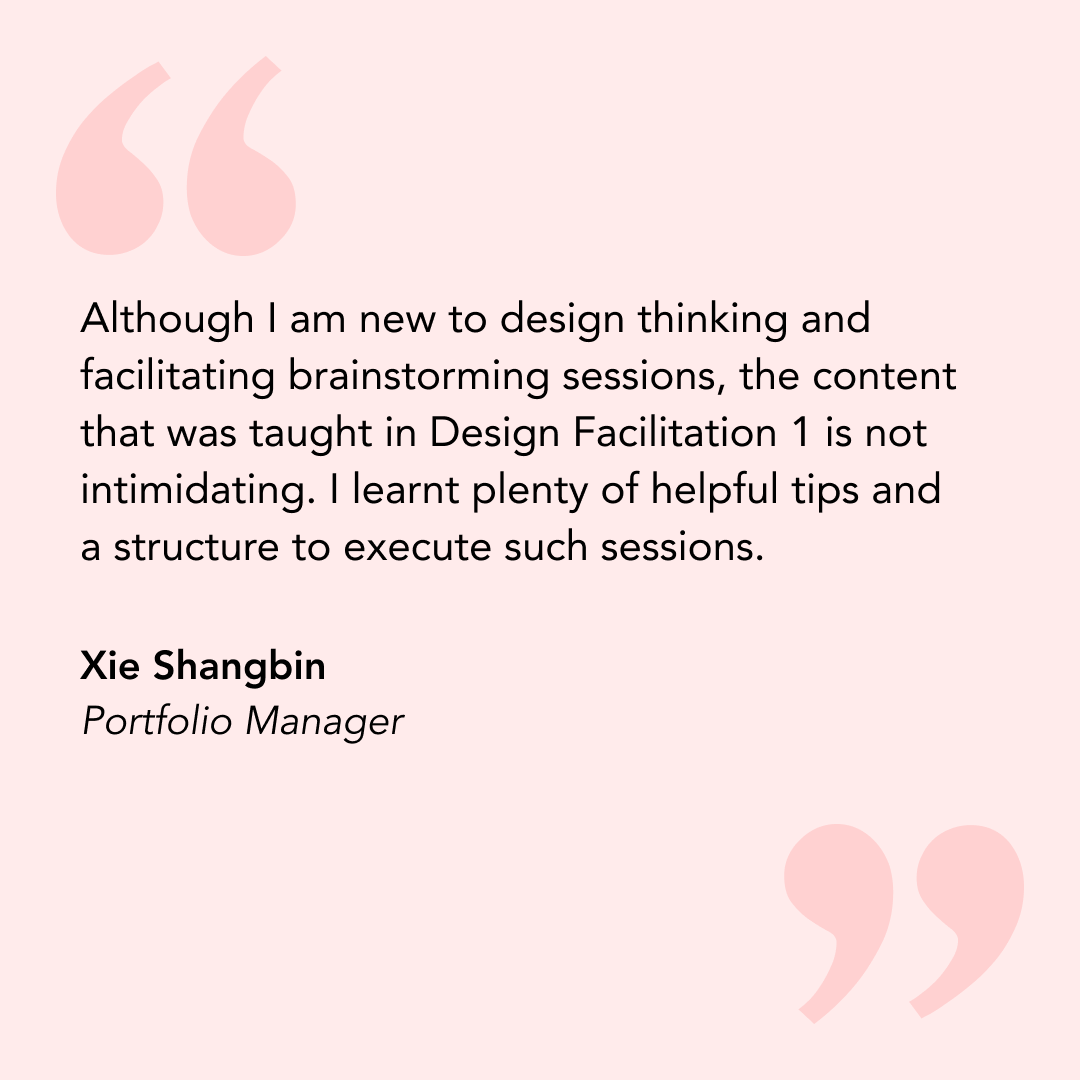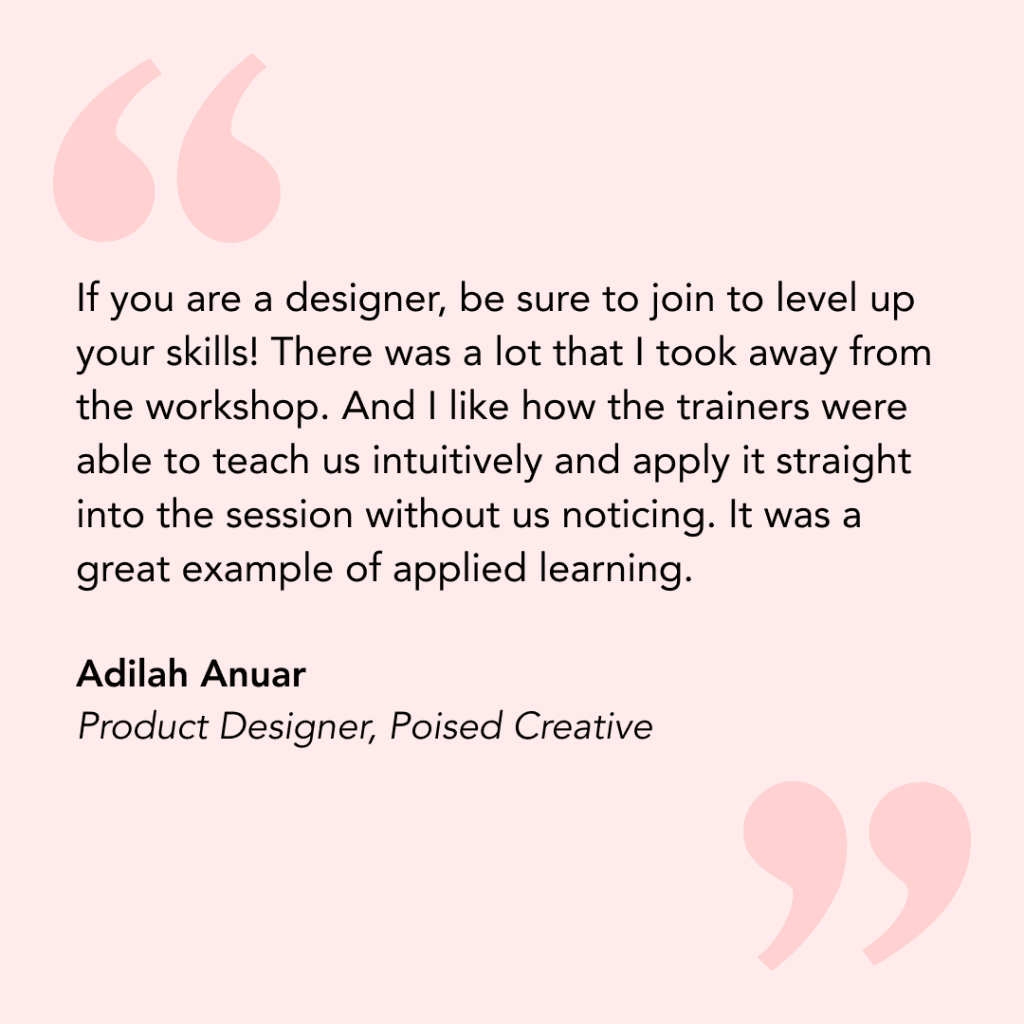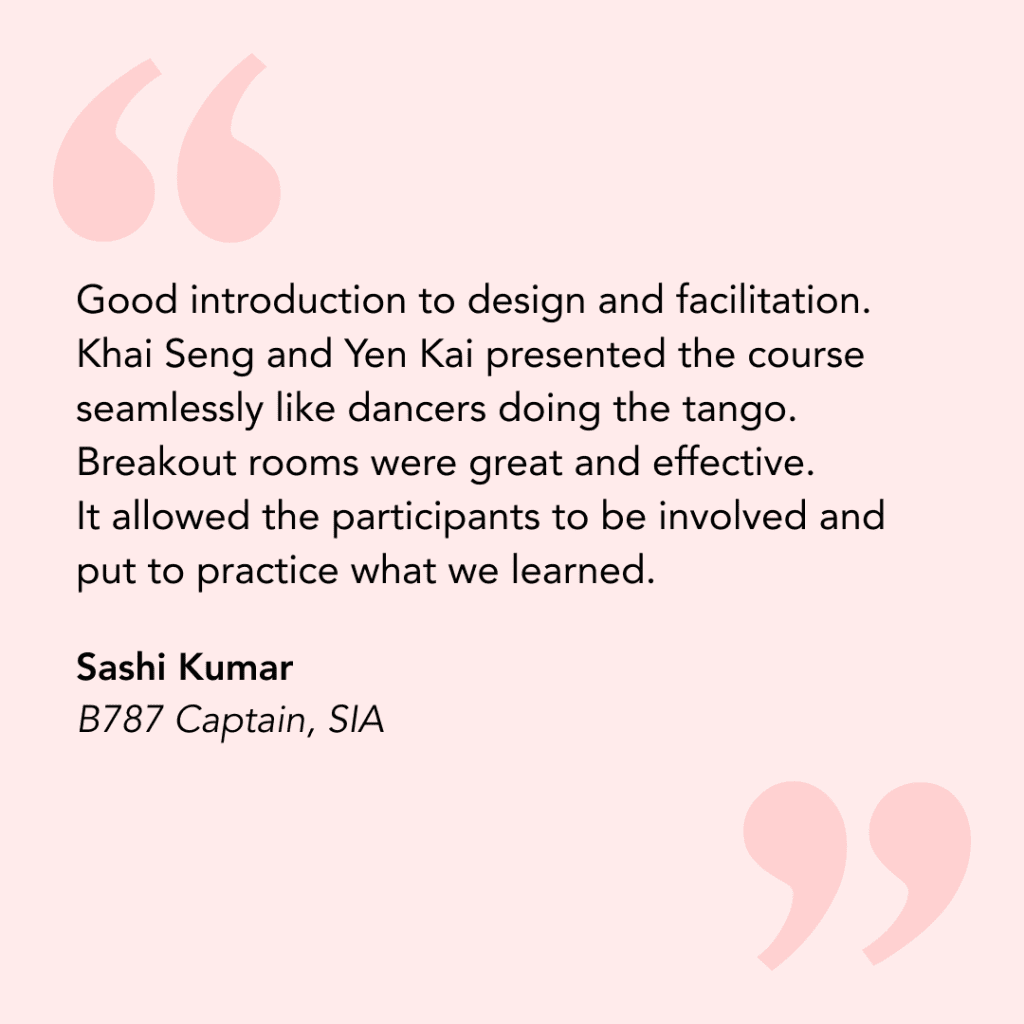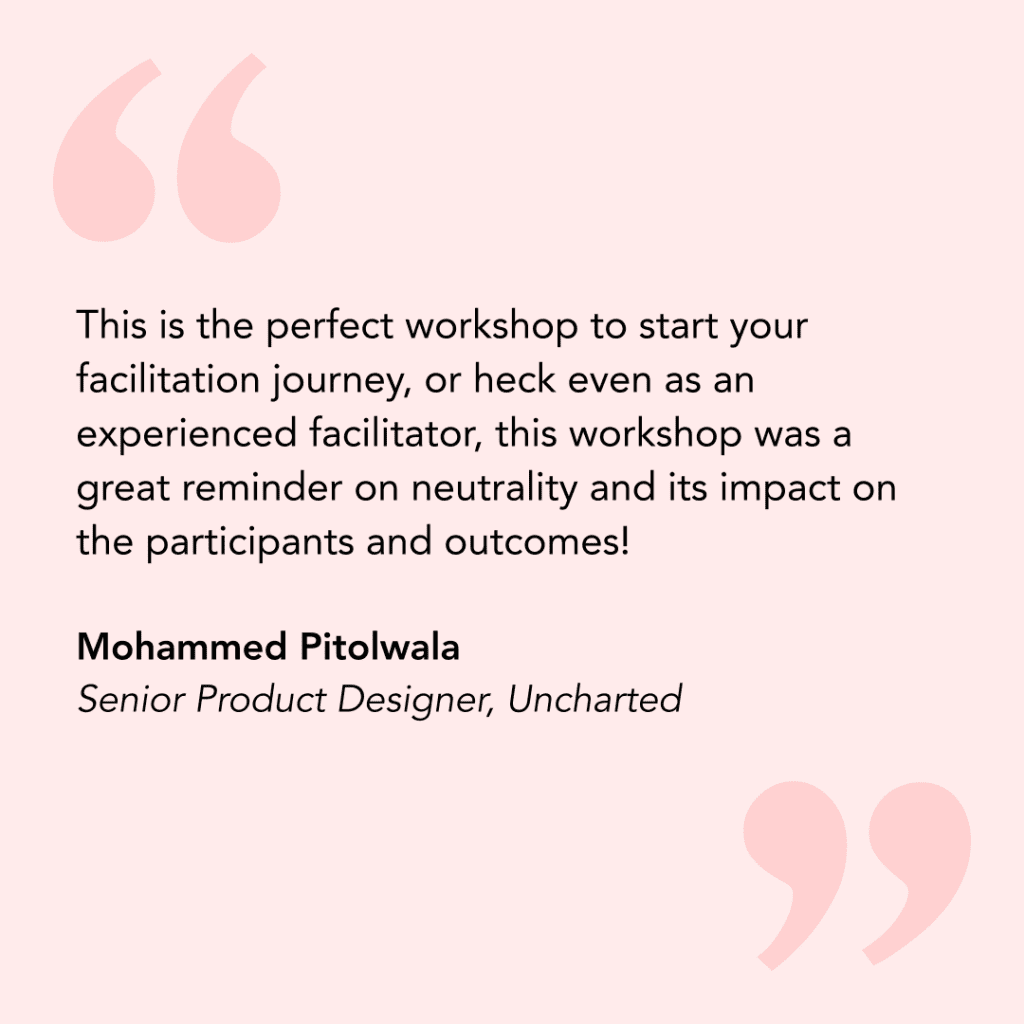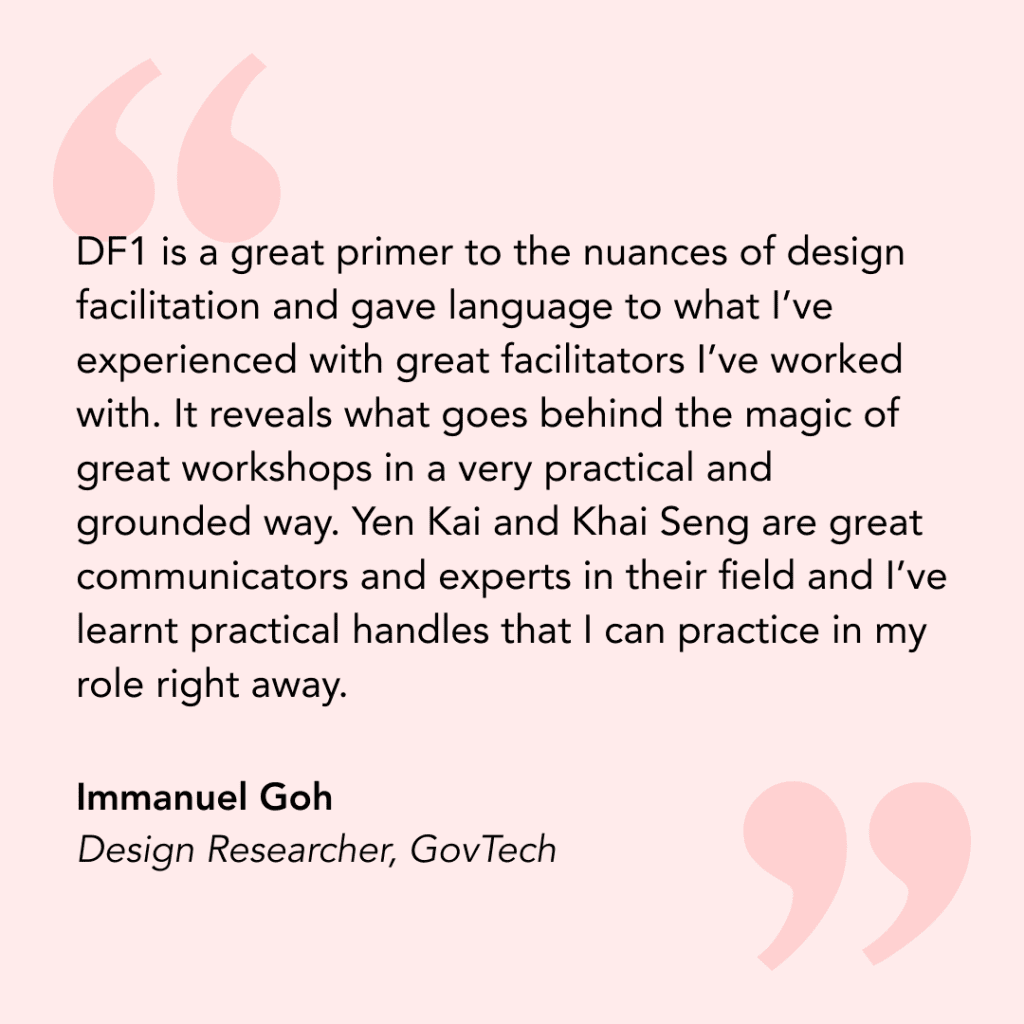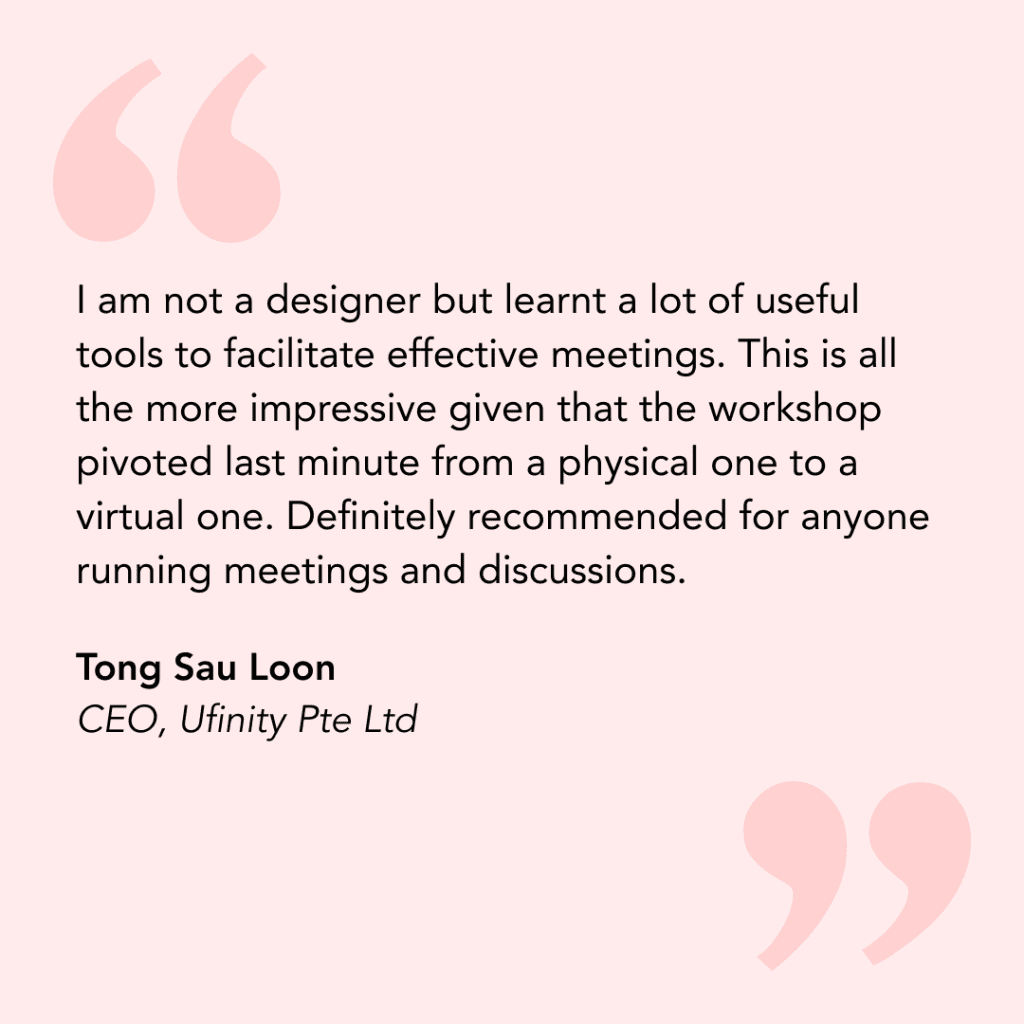 Date & Time
10 March 2023, Friday
9AM to 5.30PM
Location
Common Ground
21 Bedok North Street 1
Singapore 469659
+ Google Map
Format
Full-day, In-person Workshop
Ticket Types
Early Bird: S$375
17 Jan (Tue) to 14 Feb (Tue)
Regular Price: S$450
15 Feb (Wed) to 2 Mar (Thu)
Please contact billing@studiodojo.com if you need e-invoice submission via Vendors@Gov.