Designers in a Pandemic: Holding Space for Unsaid Conversations
When the circuit breaker was first announced in April, we were all thrusted into a state of disarray. Our rooms became offices, family members became officemates and online meetings became our new everyday.
While resources on working remotely and productively began to spring up, very few conversations focused on how the shift was more than a physical one, but also emotional and psychological. Checking in with our own team, we realised we were all experiencing the stresses of the pandemic in our own ways—anxiety in the face of uncertainty, frustration at the sudden disruption, sadness at losing our everyday comforts, amongst many others. This sharing got us questioning: how is the rest of the design community doing?
The question brewed in us a desire to host an online check in or virtual conversation for designers to heal. While it was our first time doing so, we remained motivated by both the desire to support our community and designers' interest in attending, signalling a great need for such an event. We collaborated with Smol Tok to adapt their New Normal card deck into a set of thoughtful questions aimed at helping individuals process their experiences of the pandemic. Invitations were sent out, and within a week, the first Design Dough was birthed.
Over a 1.5 hour Zoom session amongst a gathering of 20 designers, we experimented with ways to create a safe space so that intimate and meaningful conversations could arise, even in a virtual setting. These are the lessons we learnt from it.
Entering a safe space
Since Design Dough was a new community event, some participants shared that they faced initial anxieties due to unfamiliarity with the space and people who participated in it. We managed this by providing a simple guide for self-introductions using a weather chart.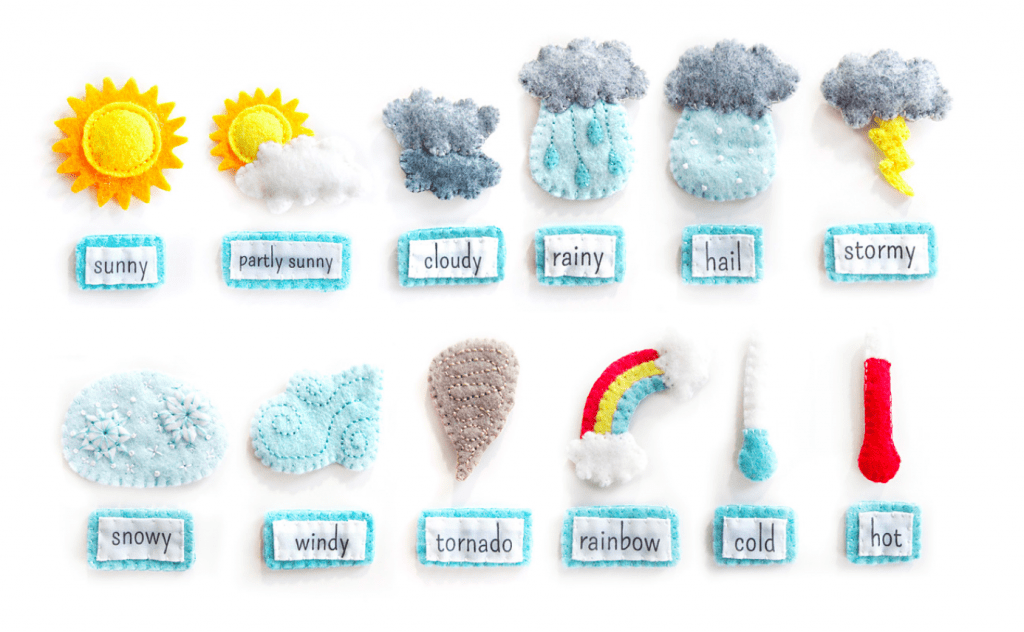 Participants described how they felt that day as a weather pattern as a way of checking in with each other. This guided everyone to open up about themselves as people rather than the typical introduction where they present themselves as their work identities.
Given that most participants were joining the event after work, we also wanted to help them delineate from their work selves to provide a better frame of mind for the upcoming introspective conversations. Additionally, we led the participants through a simple meditative exercise directing their awareness to their breaths and bodies, allowing them to slowly settle in. To ensure comfort of participants, we gave the option of turning off their cameras during the exercise itself.
Collectively, these steps helped create a sense of safety within the space and the group. Greater comfort amongst participants was key in allowing for introspective sharing of their personal experiences later on.
Small groups, big sharing
We subsequently broke the participants up into smaller breakout rooms of four to five participants each. One facilitator led each group through a series of questions adapted from the New Normal deck.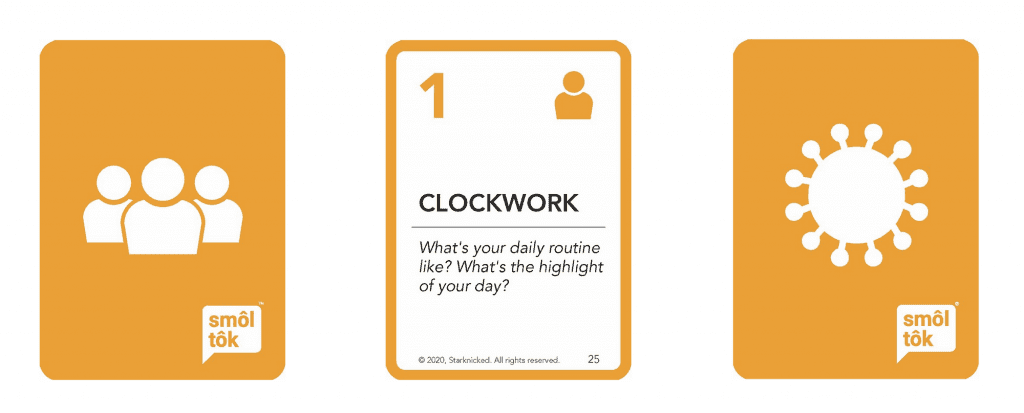 The breakout rooms provided a sense of intimacy and safety for the group to have deep conversations around these questions, regardless of familiarity with one another.
To heighten the sense of human connection despite the virtual environment, we recommended participants unmute themselves and leave their videos turned on throughout the entire session so that everyone remains seen and present. Some participants highlighted that this was a good contrast to their work meetings where they would mute themselves unless speaking.
Participants shared in a post-event survey that they were open to personal conversations because they desired to "feel heard" and be "less alone". For them, these conversations held in an intimate set-up allowed them to connect and relate their own experiences with the experiences of others in the group.
What we would have done differently
We were initially worried that a 40 minute small-group conversation would be tiring, especially at the end of a work day. But we realised through feedback that participants desired more time for the deep human connection that was happening in Design Dough.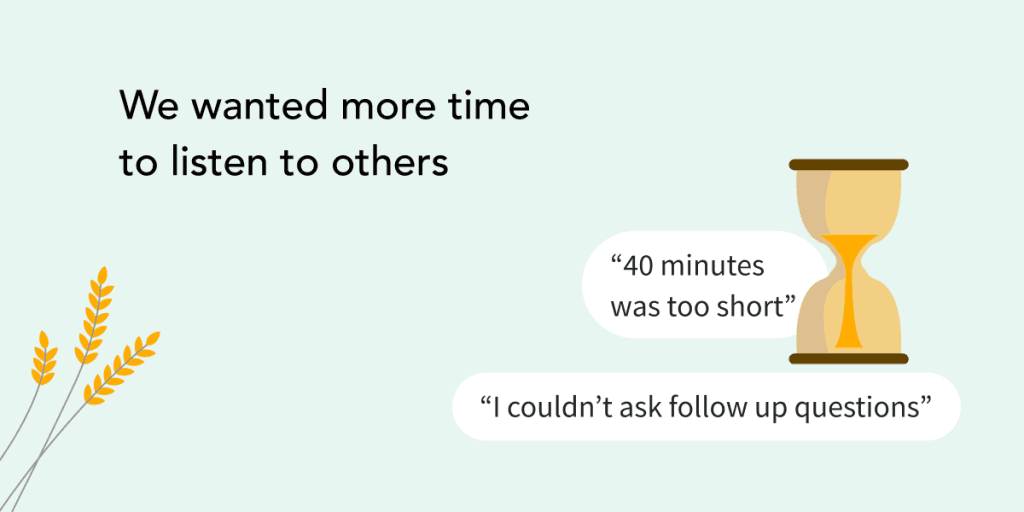 Desiring deep human connection, participants felt that more time would have allowed them to better respond and ask follow-up questions to their group members' experiences. Participants shared they yearned to better understand the experiences of others and through that, learn how to better support others in their personal lives. They acknowledged the need to manage both their personal well-being while also supporting others in the group, especially during the current pandemic.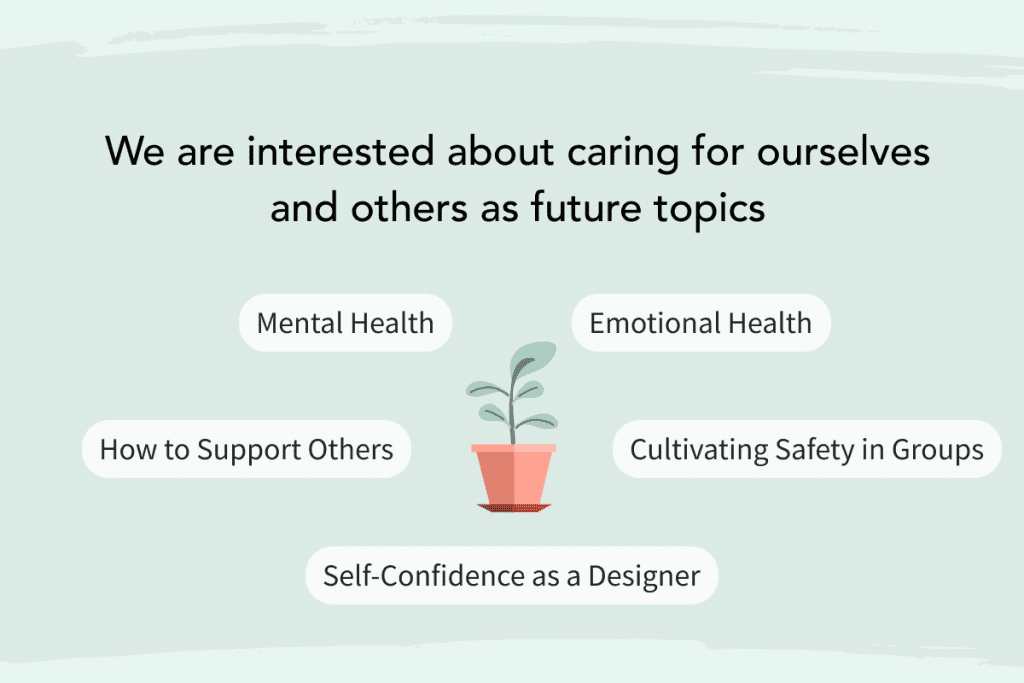 Holding space, virtual or in-person
To hold space for conversation is to be physically, mentally and emotionally present for someone. While our physical presence is reduced to a little rectangle within a screen, we realise that there are still ways to preserve a sense of comfort, safety and intimacy with one another during conversation. If anything, perhaps there is a greater need for us to hold space for others in a virtual setting.
While we remain unsure on how long the Covid-19 situation would last, one thing is for sure — there has never been a more crucial time for us all to connect, converse and support each other.
Useful Resources on Holding Better Conversations