Event Category:
Design Dough: Let's Talk about Resistance
Understanding and Managing Resistance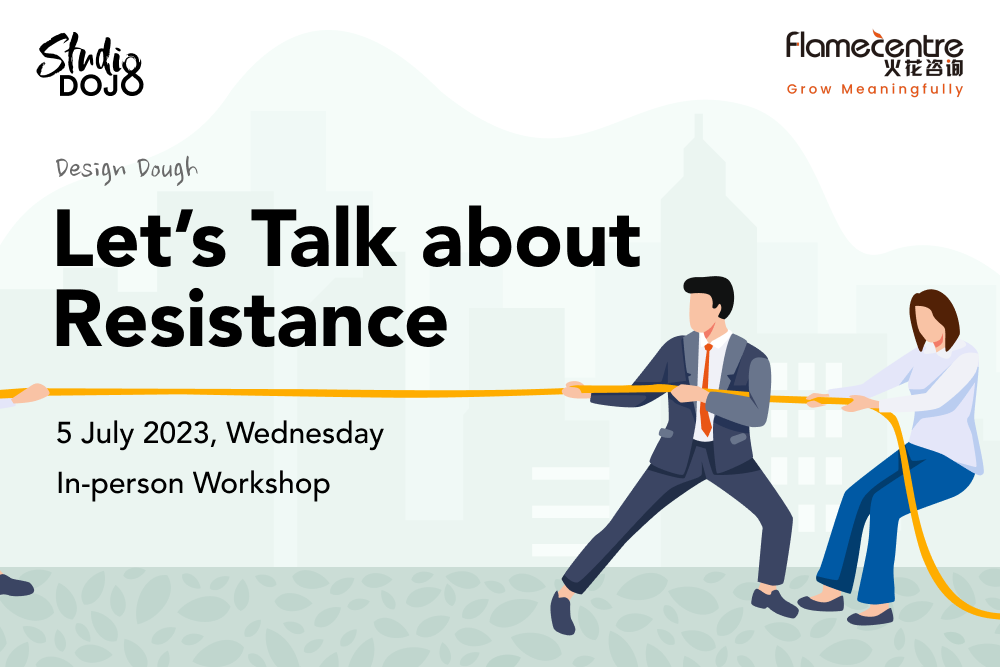 About this event
Resistance is healthy. No, really.

It tells you what matters to you, and the person you are speaking with.

Recall the times when you were
confronted by aggressive and challenging behaviours;
saying 'yes' but actually meaning 'no';
feeling unease in a conversation that was going nowhere.
You might have felt annoyed, puzzled, and frustrated – and not yet had the skills to process and address the situation. Most of us shove it aside. Some choose not to notice it at all. But unpacking the resistance can pave the way to richer relationships, effective partnerships, and a more fulfilling environment at work and at home.
"Our job is not to 'overcome' or argue with resistance, but to notice and understand."
– Peter Block
Partnering with The Flame Centre, join us on our 3rd iteration of Design Dough, where we unpack our experiences of resistance, take away practical steps to manage resistances better and connect with others seeking growth.
Dinner will be provided.
About Design Dough
Design Dough was created with the intention to bring designers closer, to grow and support each other within the design community. There is an intriguing quality to doughs, constantly being kneaded and left to rise, in the process of evolving into something with unlimited possibilities, hence the name Design Dough was born.
Read about what happened in our earlier Design Dough events:
Date & Time
5 July 2023, Wednesday
7.30PM to 9.30PM
Location
Common Ground
21 Bedok North Street 1
Singapore 469659
+ Google Map
Format
In-person Workshop
Ticket Types
Standard: FREE